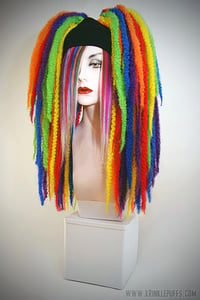 $

45.00
KRINKLEPUFFS can be made in a variety of other color combinations other than just the basic pre-designed color combinations available for direct purchase in the shop.
COMPLETE INSTRUCTIONS ON ORDERING A CUSTOM COLORED SET CAN BE FOUND HERE! <- please read for further details.
Basic steps for ordering a custom set:
STEP ONE: Review the COLOR CHART, choose your colors.
STEP TWO: On this page, select your size/fringe option and add this product (CUSTOM COLOR COMBO) to your cart. Continue checkout.
STEP THREE: Once you are redirected to the PayPal checkout page, log in and there will be link for "NOTE TO SELLER". Click that link and in the form field write your BASE COLOR and ACCENT COLOR choices. If you want a solid colored set, just write in your BASE COLOR.
* If you have chosen to purchase a fringe along with your custom colored KRINKLEPUFFS, it will be made with your base color choice as the top layer and your first listed accent color as the bottom layer.
* If you would like a rainbow set as shown in the photo, just write in RAINBOW in the "NOTE TO SELLER" section at checkout.
If you are confused, please read the information in the CUSTOM ORDERS section for more details.